The thing is, enchiladas are not a lazy food.
Let me correct that: great enchiladas are not a lazy food.
They're not quick, they're not exactly effortless, and everything in the general vicinity (including your face) gets splattered with sauce and cooking oil.
… I hear crickets. I knew I might lose you.
Come back!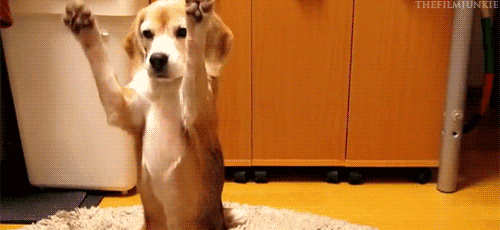 Here's a gif of a golden retriever puppy.
Cheap tactic, I know, but seriously: Hear me out about the enchiladas. Please?
I don't make these things often anymore, because if I do, I insist on frying the tortillas first, then bathing them in sauce almost immediately. Only then do they get filled, rolled, and tucked in the pan. I mean, you can theoretically make good enchiladas without this step, and I have before… Before I finally accepted the infinite betterness of fried tortilla enchiladas, that is.
The sauce, I'm a little less particular about–you can definitely use the canned stuff with excellent results. I would say that the payoff rates for frying-skipping and canned-sauce-using don't even compare. I made my own here, but that's because I wanted chipotle on my team: lots and lots of chipotle.
The beer jumped in there by accident–the accident being that I never seem to have broth around in a convenient, sensible manner. See, my hippie tendencies have me saving vegetable scraps in the freezer to make big batches of veggie stock… Which also go in the freezer. This means that most of the time, I use beer or white wine (maybe even dry sherry or vermouth), plus some additional spices perhaps, instead of broth.
As for the filling, I wanted vegetarian, and I wanted interesting. Split peas are here because: (1) nature made them, and (2) I'm all about showering them with attention lately.
Golden beets are here because: (1) robots nature made them, and (2) they're sweet, earthy, and a perfect match for chipotle peppers' groovy smoke. I think carrots would work nicely here, too.
Spinach, because it's green and will make you live forever or something. Cheese, because… I don't need to explain cheese.
The frying method is honestly much more efficient in assembly-line fashion: fry a tortilla a little on each side (you don't want it to get crispy like a chip, just pliable), drain it briefly on a paper towel, dunk it in sauce to saturate, fill and roll.
But, when photography is involved (#realtalk, you guys), it's that much more of a pain, and I did all these steps one at a time instead. It was okay–the tortillas got a little soft when I couldn't move fast enough, but all's well that ends well.
And here's how an enchilada situation ends well:
All tucked in, then baked to a bubbling, oozing mess. The kind that makes you forget about the giant mess you just made in the kitchen. The kind that makes you forget that you need another shower because your hair smells like frying oil. HOT.
I don't regret a thing, and I don't think you will either. Enjoy!
A Whole Enchi-lotta Love,
-d.
Vegetable Enchiladas with Chipotle-Beer Sauce
2014-02-28 01:10:05
Serves 6
For chipotle-beer sauce
1 tablespoon canola oil
1/2 yellow onion, diced
2-3 cloves garlic, minced
1 tablespoon chili powder
1 teaspoon cumin
1/4 teaspoon cayenne pepper (optional)
2-3 chipotle peppers in adobo sauce, minced
15-ounce can tomato sauce
12-ounce beer (I used an amber ale)
Salt to taste
For the filling
1 medium golden beet, peeled and diced into 1/2-inch chunks
1 cup cooked split peas (about 1/2 cup dry will yield approximately this amount)
10 ounces frozen spinach, thawed and squeezed dry
8 ounces Monterey jack cheese, shredded
Salt and pepper, to taste
For the rest
12-16 corn tortillas
Canola oil, for frying
Handful fresh chopped cilantro and/or green onions
Sour cream, plain yogurt or Mexican crema
Instructions
To make the sauce, heat the oil in a large skillet over medium-high heat, then add onions and saute until translucent and soft, about 2 minutes. Add garlic, chili powder, cumin, and cayenne pepper, and continue cooking until fragrant, another minute or so. Add the chipotle peppers, tomato sauce, and beer, bring to a simmer, then lower the heat and continue simmering for 10-15 minutes, until thickened and bubbly. Season to taste with salt. (You can run it through a blender or food processor if you prefer a smooth sauce.)
To make filling, combine split peas, beets, spinach, and about 3/4 of the cheese, and season with salt and pepper. Set aside.
Preheat oven to 375 degrees.
To assemble the enchiladas, fill a heavy-bottomed pot with about 1/2 inch of canola oil and turn up heat to medium-high. The oil is hot enough when it sizzles immediately upon making contact with the edge of a tortilla.
Fry each tortilla on each side for a few seconds, until pliable. Drain briefly on a paper towel, then dip both sides into the sauce to saturate. Fill with filling and tuck into your baking dish. (If using a cast iron skillet or similar-sized dish like I did, you'll be able to make around 12 with extra filling left. If using a 9 x 13 casserole dish, you should get around 16.) Top with the remaining sauce, and the remaining 1/4 of the cheese.
Cover with foil and bake around 45 minutes. Remove foil and bake for another 5-10 minutes, until the surface is bubbly and slightly browned.
Serve topped with cilantro and/or green onion and a dollop of cream or yogurt.
10th Kitchen http://thecookskitchen.net/